Dec 22-23
HGH Convention Centre, Kuala Lumpur, Malaysia
Schedule
(Subject to change)
Day

01

December 22, 2022

Day

02

December 23, 2022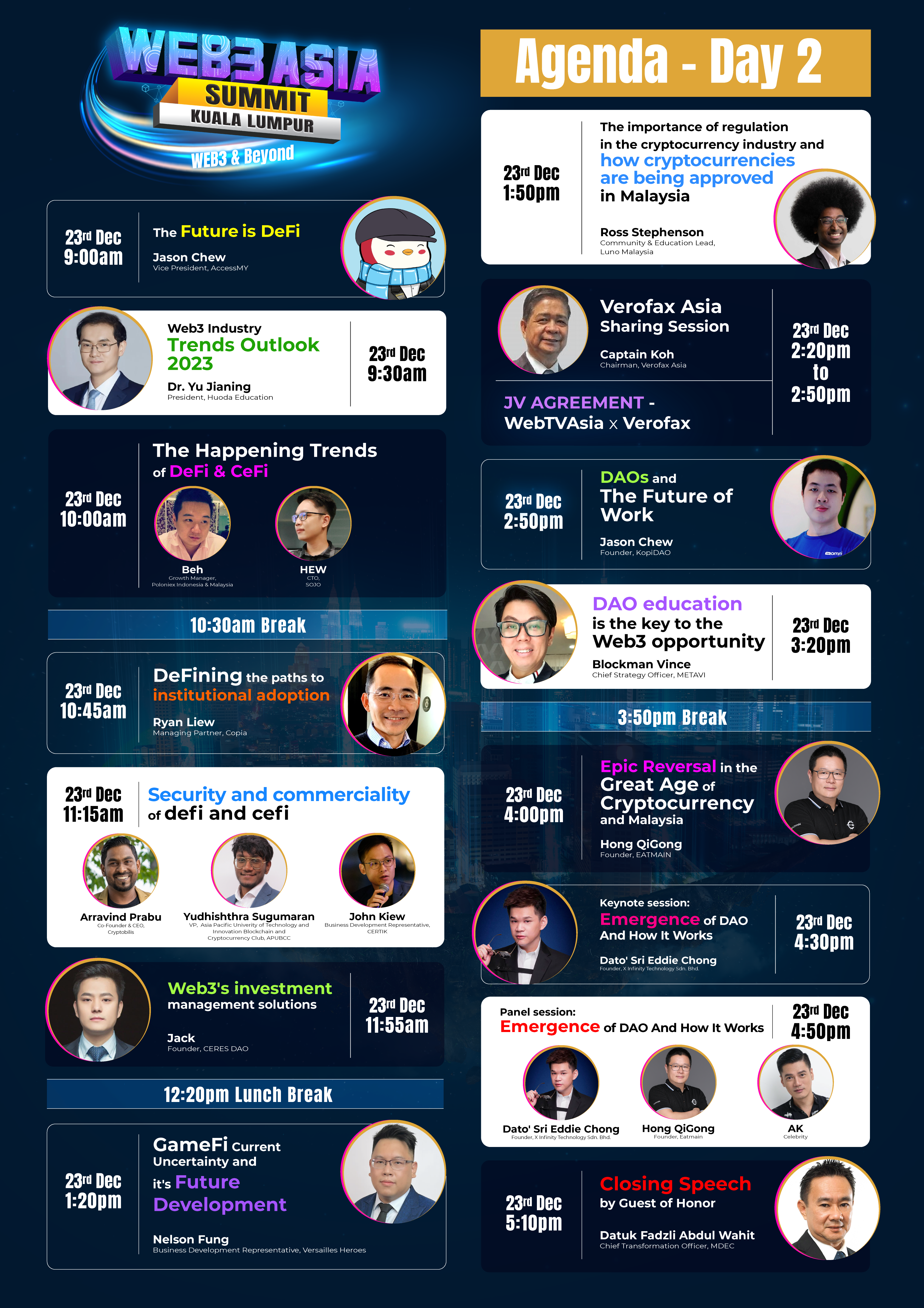 Topics
(Subject to change)
01

NFT

● Keynote | What Is NFT? The Simplest Explanation on Digital Asset
● Keynote | How to create quality and potential NFT?
● Panel | If Content Creator launches NFT project, how to empower the practical use of NFT?
● Keynote | Benefits of NFT for Mainstream Business
● Panel | Digital Asset Regulations and Policies for Businesses
● Panel | How Can Government Support the Growth and International Ambitions of Blockchain Technology?
02

METAVERSE & GAMEFI

● Keynote | The Edge And Future of Digital Arts
● Keynote | New Opportunities for Metaverse and GAMEFI
● Panel | The Open Metaverse and A Decentralized Future - Opportunities and Why It Matters
● Keynote | Gamefi Business Model: The Death of Play-To-Earn? And What's Next?
● Panel | What Does the Future of Governance in the Metaverse Look Like? (CN)
03

DEFI | CEFI

● Keynote | Walking into The Era of Digital Assets
● Keynote | The Happening Trends of DeFi
● Panel | The Promises of DeFi, And The Unseen Risks
● Keynote | DeFi in The Eye of VC
● Panel | DeFi VS CeFi
● Panel | Why We Believe and Invest in Web 3.0 - Things Investors Look For When Funding Metaverse Ventures (CN)
04

DAO+

● Keynote | The Prelude Episode of Forging a Digital Nation
● Keynote | Education is Key to Web3 Opportunities
● Panel | Metaverse & DAO - Organization for Digital Age: The State of DAO Now And Future
● Keynote | How Should I Fit into A DAO?
● Panel | DAO That Empowers Traditional Enterprises (CN)
Delegate
COMPLIMENTARY
(Limited Seats)
Exhibition
Conference
Networking Lunch
Day 2 Dinner & After Party
VIP
Exhibition
Conference
Networking Lunch
Day 2 Dinner & After Party
VVIP
Exhibition
Conference
Networking Lunch
Day 2 Dinner & After Party